Schakenbosch streeft ernaar dat jongeren en hun gezinnen zo thuis mogelijk behandeld en begeleid worden. Elk kind verdient het om, als het kan, bij zijn familie op te groeien. Maar soms gaat dat niet. Soms is het onvermijdelijk dat een jongere tijdelijk uit huis wordt geplaatst.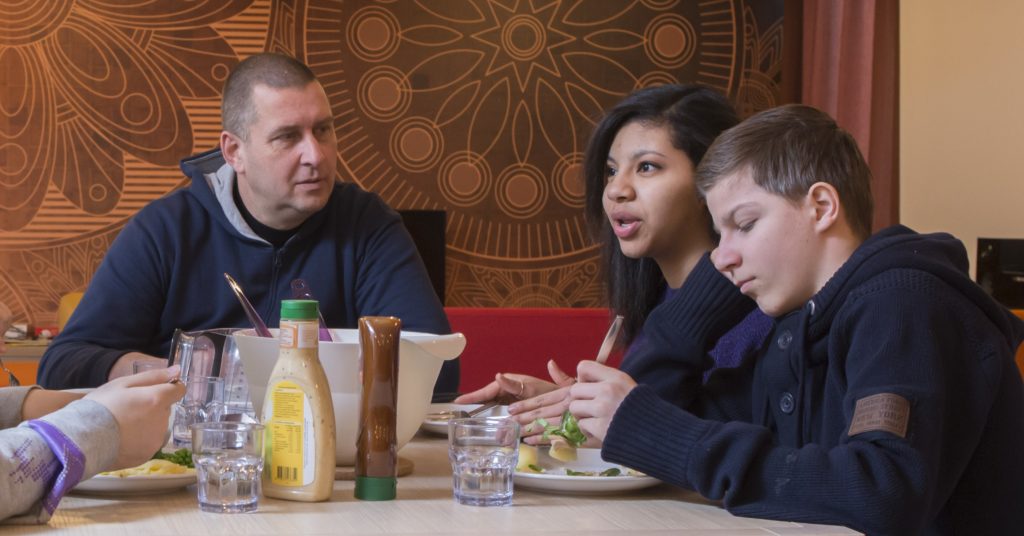 Schakenbosch biedt een zo open en zo thuis mogelijke plek. Ook wanneer sprake is van een gesloten setting. Maar wat betekent dat dan 'zo open mogelijk'?
Een van de behandelcoördinatoren zegt daarover: 'Geslotenheid heeft vaak een negatieve klank, maar het doel is onder andere het bieden van veiligheid en bescherming, tegen zichzelf of tegen anderen, én ervoor zorgen dat er vanuit die geslotenheid weer genoeg bouwstenen zijn om te werken aan groei.' Ze legt uit dat vanuit dat pedagogisch klimaat van veiligheid en vertrouwen jongeren zich weer ontwikkelen en kunnen bouwen aan relaties met thuis of school.
Jongeren krijgen een zo thuis en normaal mogelijke plek: een eigen kamer met eigen spulletjes, een gezellige woonkamer en met elkaar eten. Daarbij hoort ook een normaal ritme van opstaan, ontbijten en naar school, stage of dagbesteding en natuurlijk vrije tijd.
'De open sfeer en het vertrouwen, de verbinding maken met de jongeren én hun gezin, die vormen eigenlijk de basis.'
En dat normale leven is voor jongeren soms al een hele opgave. Jeugdzorgwerkers begeleiden hen, geven hen ruimte om te oefenen met bijvoorbeeld sociale vaardigheden of het uiten van emoties. Daarnaast biedt Schakenbosch de jongeren zoveel structuur, steun, nabijheid en veiligheid als dat ze nodig hebben. Om jongeren stap voor stap meer autonomie te geven, wordt er geoefend met zelfstandigheid en het maken van goede keuzes. Er zijn begeleide en zelfstandige momenten buiten het terrein van Schakenbosch. Jongeren gaan bijvoorbeeld zelf een boodschapje doen, nieuwe kleding kopen of naar een sportclub. Zo open mogelijk dus.